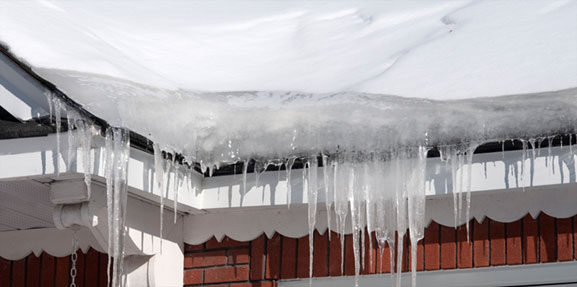 07 Jan

Property Loss due to Roof Ice Dams

Recent snowfall accumulation and low temperatures in the Metro Detroit area and throughout Michigan have created the conditions for ice dams to form on roof edges. Without proper remediation, ice dams can result in significant damage to the home and property losses.
Why

do Ice Dams form?

Ice dams form on snow covered roofs, when the snow starts melting due to heat escaping from the house, but re-freezes along overhangs due to low outdoor temperatures. Ice dams form more often on houses with poorly ventilated attics that allow heat to collect under the roof. As the snow melts and subsequently refreezes before dripping off the roof, it slowly forms a "dam" on the roof's edges, with melted water pooling at its base. As water starts infiltrating under the shingles and into the home, it can result in extensive property damage, including destroyed gutters, damaged walls, dripping ceilings, wet insulation, water damaged windows & doors, wet floors and  losses to the contents of the home. The weight of the dams can also pose a threat to the structural integrity of your home, and the infiltrating melting water is a source of rot and mildew for the roof, wall structure, and insulation.
What to do

if you have an Ice Dam

Some of the steps homeowners can take to prevent or avoid further damage from ice dams include:
ventilating the attic, if possible, to let heat escape and prevent further snow melting on the roof.
removing snow from the roof; this can be accomplished by using a roof rake available at hardware stores. Please note, getting up on the roof to shovel the snow is highly hazardous.
removing the ice dam. Ideally, this is performed by a professional, who can steam the ice dams off. However, when you have an ice dam, chances are, others do too, so professionals may be in short supply.
creating some drainage for melting water by carefully chipping at the ice dam (from a ladder).
applying calcium or potassium chloride (no salt!) to help it melt.
installing heated cables, for immediate and long term relief.
Property damage

from an Ice Dam??
your first priority should be containing the damage – drying the affected area and home contents as soon as possible to prevent mold or additional water damage.
contacting your insurance company to report the property damage; some damage caused by water infiltration is not obvious right away, the losses may be more substantial than you think.
damages from water dams are generally covered by your homeowner's insurance. If your losses are substantial, assure your financial recovery and peace of mind by working with a public adjuster to help you recover the best possible settlement for your property loss claim.
Contact our public adjuster company today for a free, no obligation consultation and find out how we can help.
Here's what previous customers are saying about our public adjuster services …
Auburn Hills, Michigan