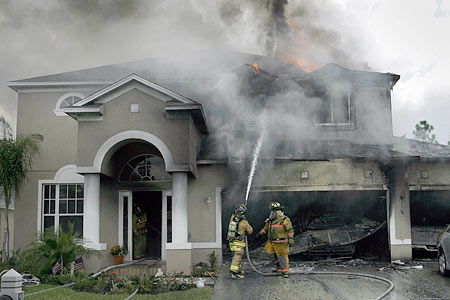 22 Dec

Winter Fire Safety

With the winter and the Holiday Season already here, most of us look forward to spending those moments with family and friends, in warm homes with lit up trees and home cooked food. Sadly, for some, this holiday season will not be fondly remembered… For many cold states, like Michigan and Ohio, winter is also the season when most home fires happen… swift, devastating, and sometimes deadly.
Most house fires during the winter have an
electrical cause.
From outdoor decorations to heating appliances, from increased use of lighting to cooking appliances, circuits often overload which can easily result in an electrical fire. To prevent electrical fires, you should:
minimize the amount of electrical equipment that plugs into an outlet
limit the use of extension cords
use only UL listed electrical cords and equipment
eliminate frayed or damaged electrical cords
if you own an older home, have the wiring checked by a licensed electrician.
See more electrical fire statistics here. 
Avoid

Christmas Tree fires!

While not too frequent, Christmas tree fire can be violent and result in more fire damages and deaths than other fires. According to FEMA, one in 40 house fires that started from a Christmas tree resulted in one death, compared with one death for 142 fires caused by other sources. To avoid Christmas tree fires, some common sense rules everyone should follow include:
water the Christmas tree to prevent it from drying off and becoming highly flammable. Conifers catch fire easily and they burn at high temperatures. You should dispose of your Christmas tree as soon as it starts dropping needles. Do not store dry Christmas trees in your garage or next to the house.
place the Christmas tree away from heat sources such as radiators, fireplaces, etc.
check the Christmas lights to make sure the cords are intact, and that they are used appropriately, per manufacturer's specifications. Some lights are just for indoor or outdoors, and generally you can't have more than three strings plugged into each other.
supervise children around the Christmas tree, and ensure their safety by keeping candles, matches, and other flammables out of their reach and away from the Christmas tree.
do not use lit candles as decorations for the Christmas tree.
turn off Christmas tree lights when you leave the house or go to bed.
An increase in
cooking activities

in the cold season also increases the risk of home fires and fire injuries.

Fires stating in the kitchens, overall, account for about 45% of residential fires, this figure is even higher during the winter.  To prevent kitchen fires, all cooking activities should be closely attended to, and fire safety in the kitchen should be a priority. Homeowners can significantly reduce the risk of a fire in the kitchen by following these safety rules:
do not leave your cooking unattended. Even a few minutes away from a frying pan can result in the ignition and a kitchen fire

keep the area around the range or oven free of anything that can catch fire

have a working fire extinguisher in close proximity to your cooking area and know what to do if you have a fire
supervise your children in the kitchen and keep them away from the oven and range
have a working fire alarm. About  1 in 8 homes have a kitchen fire every year, but only 6% of them result in extensive fire losses or fire injuries, in part due to fire alarms alerting the homeowners on time.
Do not wait until is
too late…
Keep your home and family safe by being proactive and taking the steps necessary to avoid the nightmare of a house fire.
Contact Michigan Fire Claims today if you have any questions about our public adjusting services or to find out how we can help with your property loss claim. Our licensed public adjusters and content estimators have helped hundreds of Michigan homeowners just like you recover from devastating fire losses and get the  insurance claim settlement they are entitled to.
Auburn Hills, Michigan