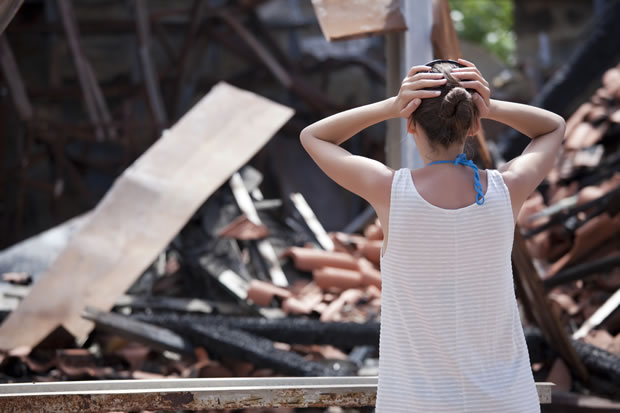 05 Jun

Summer storms – Are you protected?
If summer storms damage your property,
are you protected?
In Michigan, we are lucky enough not to have monster tornadoes or floods. But even a vanilla summer storm could result in extensive property damages, some of which may not be covered by your homeowners policy.  Find out if you have the right insurance coverage before a disaster hits home. Taking the time now to understand your policy and get additional coverage if needed will protect you from heavy financial losses. Here's what you need to know about property damages from summer storms – rain, wind, floods, and hail.
Water damage

from flood water

Flooding is common during the storm season; however, water damages from flooding are not covered by the regular homeowners insurance. If the water damage is the result of rain that came through the roof of windows, then it is covered. But damages from ground water are not.  To have coverage for floods, homeowners need to purchase additional insurance through the National Flood Insurance Program. Most insurance agents are able to sell you this type of insurance. Cost varies with the location of the home, from about $200 to $2000 or more. It may be money well spent, even if your home is not in a flood zone. Water from storms often enter basements, garages and homes, and the costs of water damage remediation are usually high.
Sewage backup
Standard homeowners policies do not include coverage for sewage backup. During a summer storm, the sewer system can be overwhelmed by the storm water and sewage can back up into your home, creating a costly and unpleasant mess. Clean up costs can run into the tens of thousands. As most insurers offer coverage for sewer backups at affordable rates, it may be worth looking into.
Improper maintenance

of property

Poor maintenance of your property could result in a denied claim, even if the damage was caused by a storm. For example, if your roof exceeded it's usable life, and during a storm water pours into your house, your property loss claim may be entirely denied, as you neglected to maintain your roof properly. If your roof is old but still functioning, it's a good idea to have it inspected before the summer storms. Or after, if it has been been hit by heavy hail.

Gutters, downspouts, sump pumps, appliances, electrical systems, large trees, should also be inspected and maintained appropriately. Check your insurance policy to see what your responsibilities are when it comes to maintaining your property. If you can prove you maintained your property, you stand a better chance of an advantageous settlement for your property loss claim.
Losses due to
power failure
Power outages are common during the summer storm season. Besides the apparent inconveniences, a power failure can cause more damages than one would expect. Without electricity, you may loose hundreds of dollars worth of perishable food stored into the freezer or refrigerator. Your sump pump will stop working for sure, which could flood the basement, especially if the power failure coincides with heavy rains.
The homeowner policies do not always cover losses due to power failure. If the outage was the result of an event occurring on your property (fallen tree, for example), the policy might cover the loss. But if it was a whole block blackout, they are less likely to do so. Check your policy or talk to your agent to find out if you are covered. There are endorsement you could purchase for such eventuality, and it may be well worth it, especially if you are in an area where blackouts often happen .
Take the time now to review your policy, with your agent if needed, for any perils summer may bring. That way, when the storms hit, at least you know you are covered.
Michigan Fire Claims Inc.
Public Adjusters, Appraisers and Loss Consultants