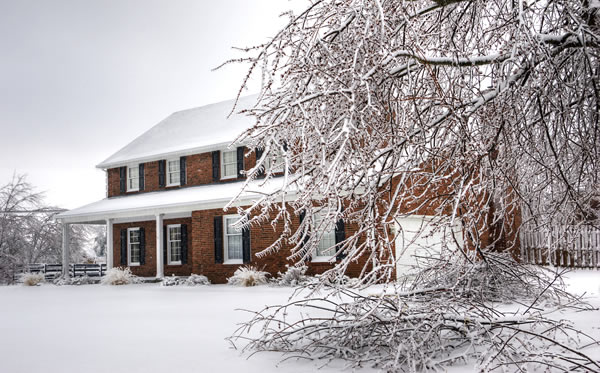 26 Jan

How to protect your property against the perils of winter

Cold winter temperatures can cause costly property damage.  In Michigan, we get a substantial number of sub-zero days from December through March. In winter, your home is at increased risk damage from frozen pipes, water infiltration through the roof, collapsed roofs or fallen trees due to snow accumulation, basement flooding due to backed up sewers or meltwater, and fires.

Some simple steps and an increased awareness of the risks of property damage will help you keep safe through the winter.
Property damages
from frozen pipes
Frozen pipe damage is the most common problem homeowners have to deal with in the winter.  It doesn't take extreme temperatures for pipes to freeze, especially if not well insulated. That's why it's a good idea to keep your property well heated throughout the winter, even when away.  The majority of frozen pipes damage occurs when homeowners are not at home and turn down the heat to save on energy costs.  Whatever they save on energy, though, does not even begin to cover the cost of repairing water damage caused by a broken pipe. Another way to keep pipes from freezing is to properly insulate them, especially if you live in an area where winters are particularly cold.  Checking your pipes regularly will also help you detect leaks earlier and avoid costlier repairs later on.
Property damages
from water infiltration through the roof
Property damage from water infiltration through roofs is also a common issue. Old or poorly maintained roofs can be the cause trouble during winter. From roof collapses under heavy loads of snow to water infiltration due to ice dams, any problem with the roofing can be troublesome during the winter, and we should be proactive in our efforts to avoid them. There are some simple steps every homeowner can take to avoid property damage due to roofs cave-ins or water infiltrations:
have your roof checked before winter, and make necessary repairs to ensure its structural integrity
 clear your gutters of vegetation debris to prevent any blockages. Installing gutter guards can simplify this task in the future and keep your gutters clear at all times.
if you observe the formation of ice dams, take immediate steps to mitigate imminent damage to your roof and property.  As soon as ice dams form, water travels upwards under the shingles and damagse walls, attics, and ceilings.  Some immediate steps include ventilating the roof to cool it and avoid further melting of ice on the roof, use of calcium chloride on to melt the ice, installing heat elements that melt the ice dam, or hiring a professional contractor to remove the ice dam.
How to avoid
house fires in the winter
It is also important to avoid winter house fires. December through March are peak months for house fires, due to an increase in the use of space heaters, cooking activities and fireplace use.  Winter fires are also more deadly. One person dies from a house fire roughly every 3 hours.  Protect your home and family from the devastating effects of house fires by exercising caution and taking fire prevention seriously.  Consider all of the following precautions next time you cook, warm your home, or simply light a candle.
wood burning stoves, fireplaces, and chimneys need to be cleaned regularly.  Creosote build-up can combust instantly and give rise to ravaging fires.
do not place space heaters next to anything combustible, and allow for empty space surrounding them.
have your gas heating equipment checked by a professional regularly to assure it's functioning safely.
supervise all cooking fires – unattended cooking is the leading cause of home fires and fire injuries in the US.
do not leave burning candles unattended – candle fires account for almost 10% of home fires, with most occurring during the winter months.
talk to your kids about fire safety – more than one is five fire casualties is a child under five.  Most fires are preventable through common sense, don't let your family be the victim of a unnecessary tragedy.
Winter can be hazardous in many different ways, but being proactive will help keep your home and family safe.
Contact us with any question you may have regarding your insurance claim for property damages due from frozen pipes, water infiltration, roof collapses and other disasters.
Public Adjusters, Appraisers and Loss Consultants