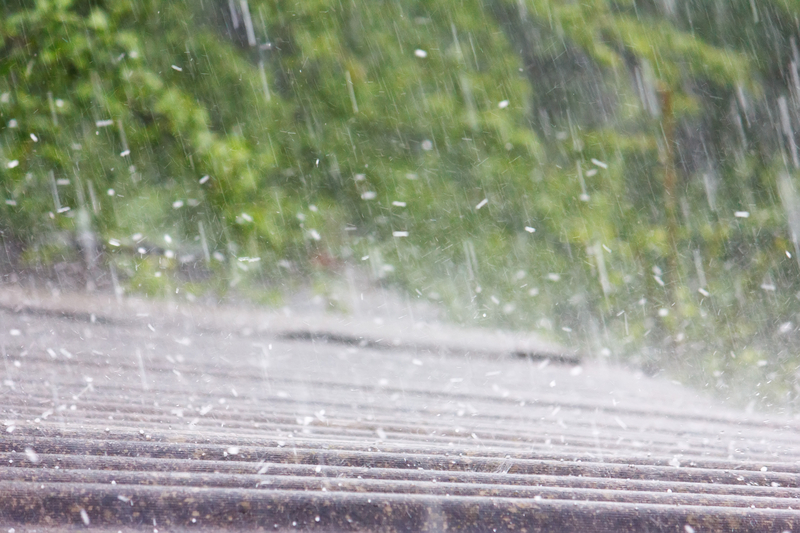 10 Aug

Hail Damage: Best Practices for Prevention and Recovery

If you live here in Metro Detroit, you've noticed that it has been a stormy summer. Hail has pounded various parts of the area, power outages have plagued neighborhoods, and we have all seen our fair share of rain, canceling summer sports and festivals. Besides being a nuisance, the reality of these storms is that they can cause significant damage.

According to Verisk's 2021 report, The Hail Hazard and Its Impact on Property Insurance, 6.2 million properties in the U.S. experienced one or more damaging hail events in 2020. In general, these numbers increase each year causing millions of new claims. How do you prevent being part of these statistics?
Preventing property losses due to hail
The best way to avoid storm and hail damage is to prevent it from happening in the first place. Here are some best practices for how to do that:
Remove dead wood from trees to prevent branches from falling in heavy wind or severe weather. Keep your trees trimmed and maintained year-round.
Secure outdoor items like grills, picnic tables, and lawn furniture to avoid becoming projectiles in storms with high winds. Put away anything that can get damaged, or cause damage to your home.
Deal with any known drainage problems to avoid a backup.
Inspect your roof periodically for any weak points that could be impacted during the storm.
Consider impact-rated windows and always close windows and curtains prior to a storm to keep indoor damage to a minimum.
Clean your gutters and downspouts to ensure water can flow properly.
Inspect the foundation of your home for any damage.
What to do if you suffered hail damage
In the event of a hailstorm, be sure to check your roof for any damage as this is one of the most common types of damage from hailstorms. Large and heavy hail can easily crack or destroy tiles, dent aluminum siding and gutters, and even crack wood or vinyl siding.
If you suffer from damage after a storm, be sure to immediately contact your insurance company to report the damage and file a claim. Even if it's minor damage, correcting it can prevent the problem from growing larger should another hailstorm occur.
Then, document everything you can (with pictures) and take inventory of loss. Be sure to stay out of damaged buildings, but when you do enter your home, protect your skin by wearing long pants, a long-sleeved shirt, and sturdy shoes when walking through storm damage. If possible, take measures to prevent further damage after a storm like covering any holes in your roof or broken windows. Remember, if you see a downed power line, contact local authorities.
With storms, there is the risk of building damage from high winds or heavy hail, but then there is also damage if water gets inside your home. Remember, water (which can lead to mold) can have disastrous long-term effects on the integrity of your home and your family's health. It's imperative to begin remediation right away to save the integrity of your home. Part of that process lies in getting a speedy recovery from your insurance company. Working with a public adjuster that understands the nuances of your policy can help you make a full recovery.
According to insurance.com, in most states, standard home insurance covers hail damage under the dwelling coverage portion of a homeowner's policy. As is the case for any home damage from fire or water, policyholders need to file a claim promptly when hail damages the home. You should also take photos of the damage and make a list of destroyed items. Don't make repairs before contacting your insurer, though you should take measures to avoid further damage.
At Michigan Fire Claims, we employ and work with the best professionals in the industry: appraisers, public adjusters, restoration contractors, negotiators, and more, to ensure you are getting the best settlement you are entitled to. With us, you have the peace of mind to know that your claim is adequately documented, your losses correctly appraised, and when it comes to negotiating, you are on a level playing field with the insurance company, without having to resort to more expensive, legal action. Our team of experts can help you get a head start on your home remediation process and help you make a speedy financial recovery.
Contact us today for a free consultation or site inspection.