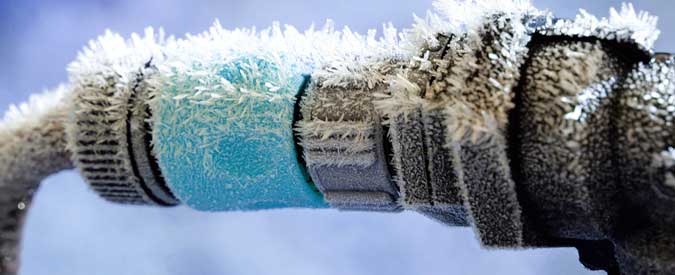 08 Jan

Frozen Pipes Property Damage FAQ
Frozen Pipes Property Damage

– Frequently Asked Questions

With sub-zero temperatures across Michigan, homeowners face an increased risk of frozen water pipes and water damage to their homes from burst pipes. Property losses from burst or frozen pipes average more than $10,000, and the time needed to repair the damages can be weeks or months. Here are some frequent questions homeowners have about property damage from frozen pipes.
Will my
insurance cover

repairing or replacing a burst pipe?

Homeowner insurance policies do not generally cover plumbing costs associated with fixing or replacing the pipes. They are considered home maintenance costs, and are generally the responsibility of the homeowner. However, the cost of fixing the burst pipe is not in most cases a large expense.
Will my insurance cover
water damage to my home from a burst pipe??
While not all insurance policies cover water damage from a frozen pipe, most do. To find out if your policy does, you must review your policy or contact your insurance agent. Coverage for burst pipes generally includes:
water damage to the home and its contents, including repairing or replacing water-damaged walls, carpets, furniture and electronics
costs to access the broken pipe and fix walls or floors damaged in the process
additional living expenses if your home is inhabitable because of the damage
How much of the
water damage

from a burst pipe is covered by my policy?

This depends on your homeowners policy. A typical policy will have replacement cost coverage for your home and its contents. Thus, the insurance will cover the cost of water damage remediation and replacement of damaged items, after your deductible.
Will my insurance rate go up

if I file a water damage claim from frozen pipes??

Unlike other losses resulting from inclement weather, water damage from broken pipes is preventable, and thus will likely result in a rate increase and a renewal surcharge. These surcharges may apply for up to 3 years, therefore, before submitting your claim, you should consider the increased insurance cost and the deductible to avoid a costly financial mishap.
I had water damage from a burst pipe…
What do I do next?
First and foremost you have to contain the burst pipe and avoid further property damage. Dry out everything, so mold and mildew doesn't set in. It's best to call in a water mitigation company that has the right tools and experience to deal with water damage.
If you are considering filling a claim with your insurance company, you need to call the insurer right away and report your loss. They will dispatch an adjuster, who will inspect the property loss.
The water damage to my home is extensive..
what should I do??
Water damage and water infiltration creates hidden structural damage, rot and mildew, that are hard to uncover and expensive to repair. Relying on the insurance adjuster to uncover all damages, so you get full reimbursement for all your losses, it's not generally realistic, especially when this is not in the best interest of the adjuster's employer. For extensive water damages, it's a smart financial decision to employ the services of a public adjuster company like Michigan Fire Claims. Our appraisers and public adjusters will work exclusively for you, the policyholder, to find hidden damages and document all your losses fully and completely, so you don't pay out of pocket for damages that would have been otherwise covered.
Won't I get less money

if I have to pay a public adjuster company??

Over 10 years, we worked with hundreds of homeowners and business owners throughout Michigan to resolve water damage claims to their benefit. Almost always, the policyholder gets a significantly higher settlement for their claim after we get involved. Even after they are paying our fee (no upfront cost, we get paid when you get paid!), the settlement may still be significantly larger than the one initially offered by the insurer.

At the same time, you'll have the added benefit of peace of mind, knowing your loss claim is handled by professionals who have done this hundreds of times before. Moreover, your claim documentation and preparation workload will be very low, and we'll be there to answer any questions you may have and negotiate with the insurance company on your behalf.

Contact Michigan Fire Claims today if you have any questions about our public adjusting services or to find out how we can help with your frozen pipe property loss claim. Our licensed public adjusters and content estimators have helped hundreds of Michigan homeowners recover from devastating water damage and get the insurance claim settlement they are entitled to.
Auburn Hills, Michigan